Wharf Amphitheater Information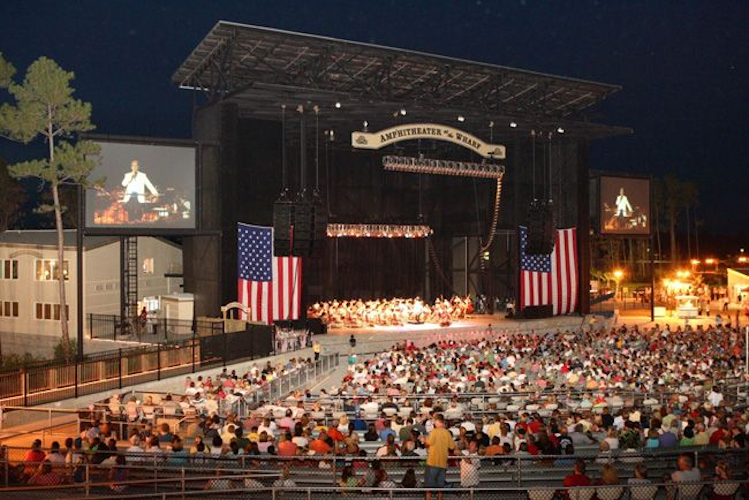 Orange Beach, Alabama plays an important role in Alabama's recreation and tourism industries. With its gorgeous oceanside view that includes the famous Orange Beach Islands, known locally as the Islands of Perdido Pass, there's plenty for explorers and tourists to enjoy. All four islands of the Perdido Pass were within minutes of each other, meaning that there was no safe way of getting there on foot, which is why many of the islands are explored by boat, kayak, or jet ski. This feel of exploration and hidden wonder made the Orange Beach region popular across the country, turning it almost overnight into a top ten tourist destination.
So it was easy for enterprising venue owners to create venues that would appeal to this need.
When the Wharf Amphitheatre was designed, there were two main goals in mind. First, the venue had to support the family beach vacation feel that Orange Beach had become known for, and it had to appeal to locals who were well involved with the local golf, sports, and marine biology cruises and adventures. The venue became a success since it appealed to the beach house lifestyle and felt like a product of Alabama's warm and friendly atmosphere.
Take your time when you come out to the Wharf Amphitheatre to explore the city before and after your ticketed event.
See below for more information on the The Wharf Amphitheater at Orange Beach:
Wharf Amphitheater Parking:
Find out more about parking at the Wharf Amphitheater.
Ticket Policies:
Read about the ticket guarantee, refunds and strict ticket verification policies.
Wharf Amphitheater Seating Chart:
View the The Wharf Amphitheater at Orange Beach seating chart and read seating information.